Today is special for me so I've decided to snuggle on Meowmy's lap and tell you this story. And yes, I am actually snuggling on her lap and she's letting me click the mouse button! A year ago I was a very sad little meezer. I know many of you know the story but I wanted to tell it again so that I can remember how sick I was and how much Meowmy & the Chip Man love me.
On a cold snowy day while I was munching on some tulips from a memorial service for the Chip Man's grandmother, Meowmy noticed I was sitting with my right hind leg kicked out kind of funny. I was almost 6 months old so I was still a tiny little meezer. I had just had my hoohaectomy a couple of weeks before. I seemed OK for the most part but I was sitting really weird. Days went by and I started to limp. It was very hurty for me to use that leg but I didn't understand why. Meowmy and the Chip Man though I had attempted an acrobatic feat and had fallen from the top of the armoire in the dining room which was moved because they were painting.
They decided to put me into isolation for a few days to "keep me quite". I was getting worse rapidly so Meowmy called the VET. (Kaze is now crashing my lap party and lying on Meowmy's typing arm) She took me in to see "Doc" the vet who had seen her family's cats since grandma got her first cat, a Siamese named Bo in the 70's. Doc agreed with Meowmy, she thought I had injured my "hock" (Meowmy is familiar with horse injuries because horses are so fragile and she's seen a lot of stuff happen to them). The hock is your hind "knee", the joint that bends the opposite way than human knees. He took an x-ray just to be safe and it was a digital x-ray. The image didn't look right but the Doc thought it was just a weird development or something. I was sent home to rest and call back in 3 days. Two days later (actually March 15th) I was much worse. Meowmy called the VET's office and our usual vet, Dr. Ian was in the office. He reviewed my x-rays and called Meowmy. He wanted her to bring me in right away as the image was NOT normal and he was very worried.
Meowmy rushed home and brought me to the vet (the Chip Man came too). Dr. Ian showed them the picture on his computer and showed them how my femur looked fuzzy and moth eaten. This is not a very common thing to have happen and Dr. Ian was perplexed as to what was causing it. He though maybe I had a fungal infection. Some of you who live in other areas of the country might have to worry about this but here in NJ we don't have fungal infections for the most part and they usually happen to woofies. He prescribed some antifungals that had to be ordered because the pharmacy didn't have it.
That night I was shaking and just sitting on Meowmy. She was really worried about me so she called Dr. Ian back and he personally gave her directions to the ER vet in Langhorne, PA. There was no point in going to our local ER because they couldn't do the bone biopsy I was going to need. The drive over I was a good little meezer and I didn't meeze much but I did enough to let them know I was still with them. We saw the triage VET and my records had been sent over and Meowmy brought the disc with my x-rays. The triage VET said I need to stay over night and have a bone biopsy as there was no easy explaination about what was wrong with me.
Meowmy went home and cried. A lot. Chase told me about it. She was hysterical and felt like she was failing me, her first kitten. The kitten she had waited for her entire life. She waited not so patiently to hear from the next VET in the morning. The next VET said I was going to need the biopsy but that I was resting comfortably. Meowmy swallowed hard at the cost and told them to go ahead.
Next they came and collected me and made me go to sleep. The VET had a Scotish accent and he said he was my Dr. Ian's professor when he went to UPenn. He said he was very good and he would help me if he could. I went to sleep for an hour and a half!!! That is a LONG time for a little kitten. They drilled 3 holes in my femur and then sewed me up with 2 sutures. I was very very woozy after my surgery. I just couldn't completely wake up. Meowmy called every 2 hours to see if I could come home yet. The VET wanted me to stay another night but it was just too expensive considering they had no idea what my treatment would be.
Meowmy came to take me home and she kept me in the PTU in their room so that I couldn't fall around and hurt myself since I was still feeling my anestisia. If I was allowed to move around I couldn't really walk. Meowmy didn't sleep a wink that night because she kept checking on me. She was worried that I might just fade away in the night.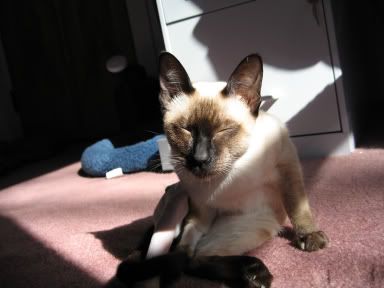 The next morning Meowmy stayed home from work to be with me. I was in so much pain I really didn't want to move at all. I didn't want to eat or drink or do anything but lie in the sun.
I think I'll stop there as this is getting long. I'll tell you the rest soon!