This time last year I was just recovering from my femur infection and my head started to tilt to one side. The People noticed that I was carying my head funny while I was sitting and walking. I was very dizzy and kind of woozy feeling. After a week or so of me looking like this, Meowmy called the VET.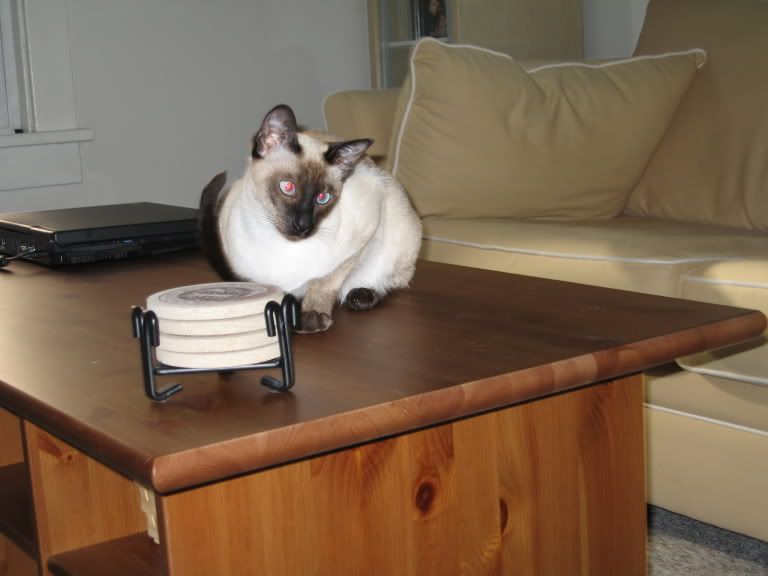 She was very busy that week as she and the Tall Man were in charge of a booth in Atlantic City at the Atlantic Builders Convention. They HAD to be there, they couldn't not go. One of the VET's (not Dr. Ian) was very worried about the tilt and wanted to come in early so that Meowmy could get me there. It didn't work out but she got me there on Monday bright and early. He started a treatment of ear drops thinking it might be an ear infection. It should have gotten better but didn't.
As usual, Dr. Ian came to my rescue and called Meowmy when he found out. He wanted me to come in for a neurological exam. I went in and he did all sorts of tests like making me grab for the table, walking, looking into my eyes, etc. The funniest thing he did was spin in a circle with me in both directions. It is supposed to show your reaction and how dizzy you are. Dr. Ian is a GIANT and he was funny to watch spin around with me.
He said an MRI would be the next diagnostic tool but after everything I'd just been through, he didn't want to do that yet. Instead he started me on the treatment of a protozoal spinal infection. You know what? I started to get better! My tilt went away and now I'm great!
Now you know why I love Dr. Ian. This was actually more life threatening than my femur infection though that was more painful. He saved my life twice and he just knows me. He always kisses me and says how adorable I am. Dr. Ian goes the extra mile and I trust him completely.
I hope you all have a lovely Passover or Easter!