Since I've been being a nicer meezer and demanding lap time from my Meowmy she's been getting a bit cheeky and actually pushing me off!! She says I get in the way of her helping us blog because I don't curl up, I lie vertically on her lap. Well anyway, I keep going back and eventually she relents and puts the computer down. Last night I even crawled under the covers with Meowmy and Kaze. Its warm under there but I don't want to spend the whole night there.
As I was sitting on Meowmy's lap watching the cursor I heard a HUGE thunder noise as Kaze & Chase ran past. I quivered in fear because I could not see them because of the computer screen. Luckily my Meowmy protected me and all was OK.
Now on to my awards! I was very honored to receive 3 awards this week! My loving wife
Cheysuli
bestowed upon me the award which
Yao-Lin
created.
I would like to pass this award on to
Jake & Bathsheba
. They don't always get to post as much as they would like but they are some of my most special caring friends.
Then
Parker
bestowed upon me the Thinking blogger Award. I really appreciate that as I make her think how cute I am. I seem to have that affect.
Sammy & Miles
always make me think about if I'm doing the most meezerly things I can be doing.
Tamra Maew
bestowed the Bloggers of the World award. I really like this one because I love that we have friends all over the world.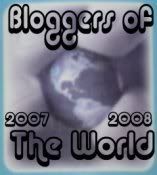 I would like to pass this award on to
Boy
. He's a true worldly blogger!