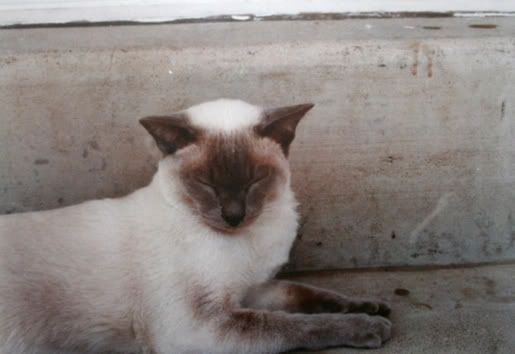 Here he is, my "grandfather" Beau. If not for Beau then I would not be in my furever home.
About 30+ years ago my Grandma was in high school. She decided she was going to get a Siamese kitten for herself while her parents were away. So she went into town and got this little lilac point and brought him home. Her parents were NOT happy with the new little creature but they let her keep Beau.
Beau liked to chew on wool and torture their dog Peggy (a collie). He loved my Grandma very very much. He hissed at her boyfriends he didn't like and slept with her all of the time. Then one day Grandma went away to college. From that day forward Beau NEVER forgave her. Ever.
He became my Greatgrandma's cat and made Grandma feel bad whenever she was at home. One day Grandma gave birth to a little girl who was to become my Meowmy. She brought the little girl to live with Beau for a year and Beau LOVED her. He slept with her and played with her and they became best friends. Meowmy was hooked.
Some years later Beau had kidney problems and had to go to the bridge. Meowmy was a little girl (probably about 7) and she cried and cried and cried. Greatgrandma gave Meowmy Beau's PTU to remember him by because Meowmy did not have any cats of her own (she was a deprived child!!!! not really....) For the next 5 years on her birthday Meowmy wished on her birthday cake wish that Beau would come back alive.
Then a year and a half ago Meowmy told the Chip Man she REALLY wanted a meezer of her own. She loves all cats and loved Chase tons but really needed a meezer to make her life complete. Enter me!