Kaze was having trouble trying to get Meowmy to get presents for Eric & Flynn for winning her 20,000th visitor contest. I decided I'd throw in a paw and help out. Since I'm the most bold in our household I got to go for a little ride.
"Um...Meowmy.....where are we going exactly? This is the metal monster but I'm NOT in my PTU." Oh well, I'll just snuggle into this nice towel and meeze a bit."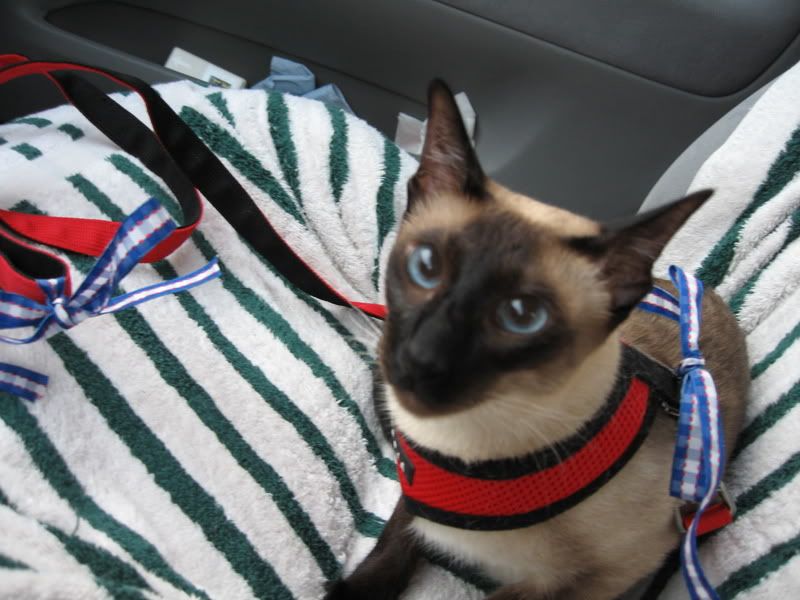 After a few minutes of meezing I decided I'd just hang out. I snuggled up and looked out the window a bit. Finally we arrived at the store! Meowmy took me into the moving doors and put me in a blue cart. At least it matched my eyes! I met a little bean and she though I was mighty cute.
I was in the cart next to Meowmy's purse when I looked right and noticed.....HEAVEN!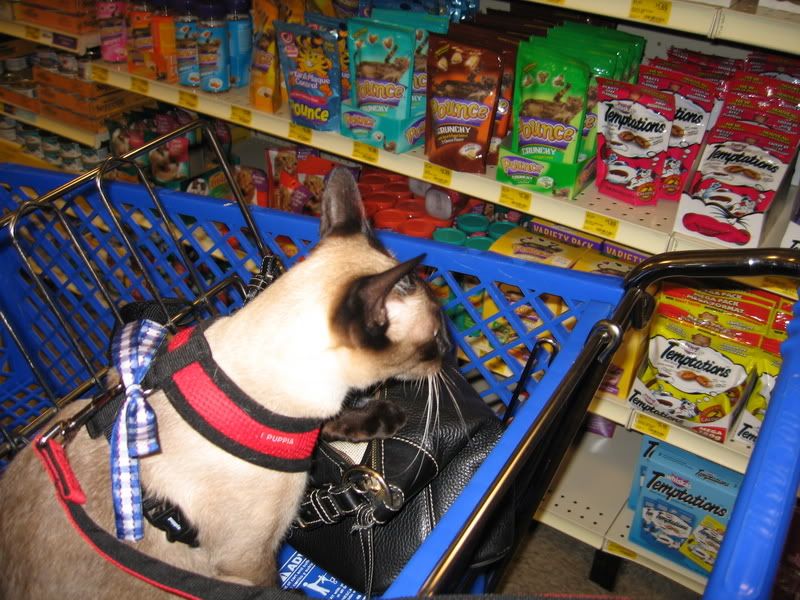 Do you notice that there is an ENTIRE AISLE OF TEMPTATIONS OF ALL FLAVORS????? Meowmy said there were no free samples so we kept rolling on.
"I wonder if that stinky goodness is tasty?"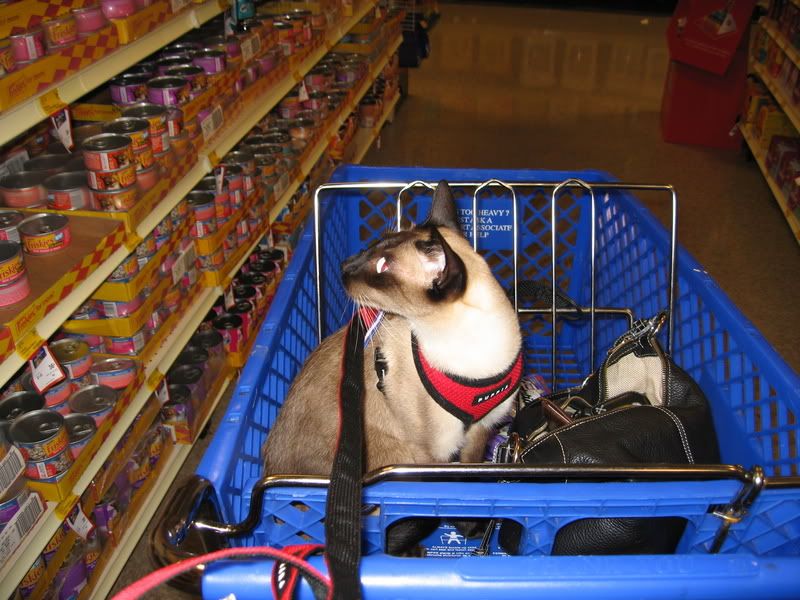 Then we went down the toy aisle and I was really interested in all of that so Meowmy has no pictures. I even met the kitties up for adoption! One of them must be related to Chase because he was busy "covering" by scratching the wall over his litterbox. I did not want to be his attendant, he was big and panthery and I didn't recognize him.
On our way out Meowmy stopped at a big thing covered in more toys. I was much more interested in the Guinea Pigs!!! Don't they look tasty???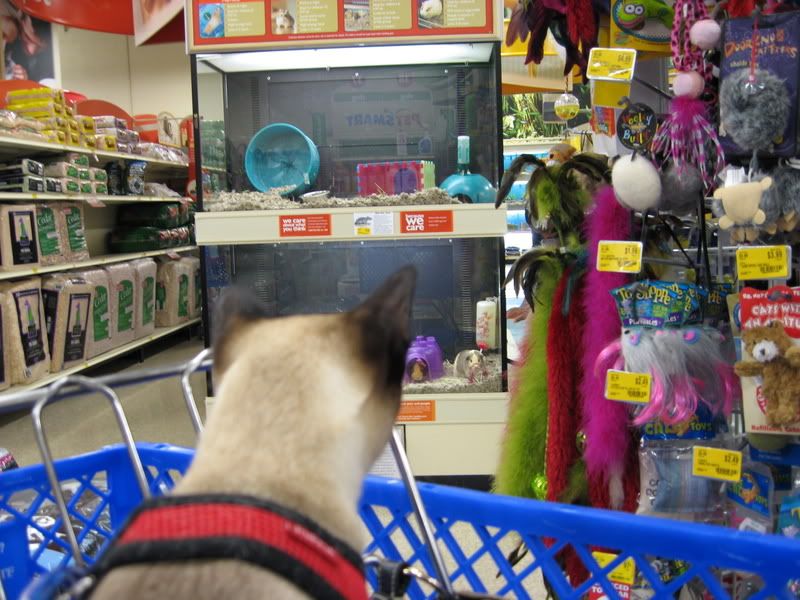 The nice girl who checked us out (How Meowmy can spend over 50 green papers in 5 minutes is beyond me.....) said I was really cute and let me play with the toys we were buying.
Then back to the car where Meowmy juggled me, a bag of toys, and two things of litter while opening the doors and getting rid of the cart. I just lay draped over her forearm. I'm a good meezer.

Next we stopped at a stinky place because the car kept saying BEEP!!!!!! BEEEP!!! Which Meowmy said means its thirsty. The man at the car drinking station wanted to pet me but Meowmy didn't think I'd want to smell like gas so she just smiled at the man and thanked him. (In our state its the law that you can't fill your own gas tanks.....its annoying.)
Then we went home where Meowmy put me on the ground and I got within a gizzy-length of a bunny! I couldn't help myself I RAN after it. But then my harness didn't let me go further so Meowmy scooped me up and did the precarious arm balance dance thing again. She's lucky I'm easy.
And that my friends was my adventure! I hope you enjoyed!