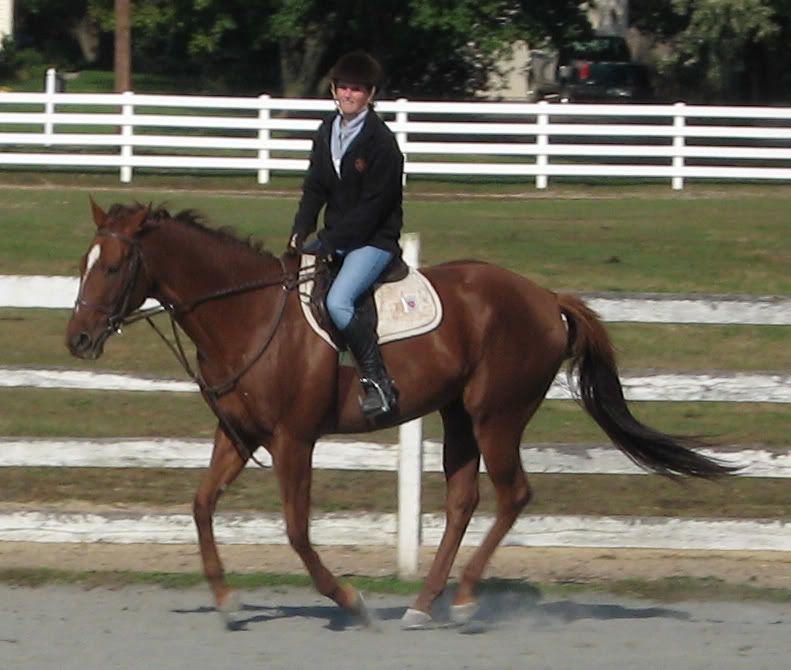 This is Meowmy doing what she loves (they are flying in the air!). This is our horse, her name is Make it Snappy but we call her Snap. She's a cranky *female dog*. Meowmy calls her that a lot. She's a chestnutthoroughbredmare (she says that like its a BAD word) who is 6 years old and she used to be a racehorse. Snap and Meowmy usually work every night after she comes home from her day job. That means that Meowmy doesn't get home until at least 8:30PM. In the winter we have lots more Meowmy time because she doesn't go out to work with Snap as much.
Tonight Meowmy started smelling weird again. I sniffed and sniffed and tail twitched and sniffed some more. I was having trouble figuring out why she was sitting on the floor (she doesn't like getting the couch "horsey") and then I rememberd what all of those smells mean! It smells like hay and grain and dust and HORSE!!
I like when Meowmy rides because she gets happy and excited and she's much more fun to be around. That is when she has a good ride....the bad rides make her crabby. Anyway, its been 4 weeks since she's ridden and she was so much more relaxed tonight. I guess Snappy loves Meowmy too as she hugs her with her head (I'm not sure how that works...kind of like a head butt? But wouldn't that mean she knocked Meomwy over???) I'm glad Snappy loves Meowmy and takes good care of her because she could really hurt her if she wanted to. Yeah for Snappy!
Oh, and she's a Vishus Deer Repelent! She's stood up to big deer and protected Meowmy.